[embedyt] http://www.youtube.com/watch?v=Y68pLAmNrsc[/embedyt]
Welcome to our Blog:
Royal Shrine Saint Joseph of Mountain in Barcelona is the first shrine built to honor St. Joseph. He is husband of Mary and foster father of Jesus.
It belongs to the Congregation of the Mother of the Abandoned and Saint Joseph of Montain.  This work was carried out thanks to the Faith , Trust and Momentum of the Blessed Petra of St. Joseph,  she is the founder of the Congregation.  This woman of "Heart of Fire ",  well defined John Paul II to her, began to rise in 1895 and opened the Sanctuary Church on 20 April 1902 .
Petra of Saint Joseph is a Josep Apostle, she was beatified on 16 October 1994. 
The Shrine was built on a small hill called " the bare mountain " at the Gràcia Village. Petra of S. Josep could see that the sanctuary would be a focus of Devotion to Saint Joseph. She predicted : "People come from all over the world". And so it has been since its inauguration: Thousands of people visit the Shrine throughout the year to pray to St. Joseph of Mountain.
This Modernist building built with stone from the same mountain. It was designed by the disciple and collaborator of Gaudí: Francesc Berenguer i Mestres and built by the master builder Barba .
Social Work from Shrine Saint Joseph of Mountain.
The Sanctuary houses from the beginning children at risk of social exclusion. They are currently supervised by the Generalitat of Catalonia. The Shrine actively collaborates with diverse realities of the district that need support : helping families, homeless
The Veneration of Barcelona towards the Real Shrine of St. Joseph of Mountain.
This devotion was very large from the beginning. Without being completed Royal Shrine of St. Joseph of Mountain the newspapers of the time echoed pilgrimages to the Shrine that were for the month of March to Perform Requests to Saint Joseph and namely on 19 March. Solemnity of St. Joseph .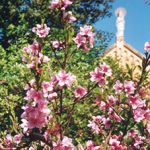 Esta entrada también está disponible en: Catalan